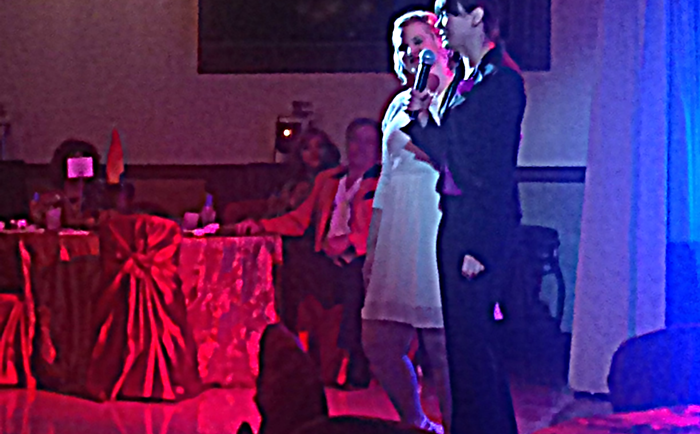 REVIEW: JONI & GINA'S WEDDING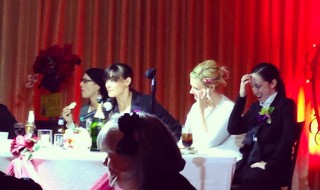 Joni and Gina's wedding is proof that even the gays can't pull off the extravaganza of holy matrimony without a hitch.  In fact, all of the cringe-worthy antics often displayed by family members at weddings is only exacerbated in this must-see, highly hilarious play in Las Vegas.  Upon arrival, you actually almost feel like you're at a real wedding and may have mis-read that it's a play.  Once checked-in, guests are seated at various tables bearing the names of notable lesbians including Jodi Foster, Wanda Sykes and Virginia Woolf.  Even more apropos — KD Lang is playing over the PA system.
Actors playing various family members of both brides begin to shuffle in giving you a glimpse and foreshadow of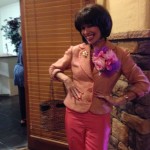 the crazy that's about to occur.  After you meet Gina's pill-popping mother, Marine Corp father and muscular brother (surely meant for the gay males of the crowd) — Joni's uber Jewish mother and sister start making their rounds.  You meet Joni's car-salesman father and his Latina girlfriend (who doesn't have much voice until her unforgettable wedding speech at the reception). Inside the Synagogue — to which guests are escorted by foot around the corner — it is non-stop laughter.  I won't even tell you the name of the spiritual minster presiding over the wedding because it's part of the comical charm of this play.  All I'll say is her introduction — which requires a smoke machine — will have you shaking with laughter while completely appreciating the genius writers who penned this play.  Joni's best man — who couldn't be more perfect for the part — doubles as the wedding planner. And, Gina's grudge-bearing ex-girlfriend who is cast as her bridesmaid is great at getting on Joni's nerves.
Tala Marie plays Joni and pulls off the believable tom-boy persona given her regular gig as a sexy dancer in Matt Goss' show over at Caesar's Palace.  I've known Tala for years and this lady is an A-grade actress on all accounts. April Needham plays Gina — the "lipstick lesbian" in the relationship — and is adorable from start to finish.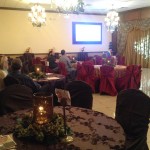 From the Chapel you head back over to Ron DeCar's Event Center where the play both begins and ends.  The unique venue– impeccably restored, I might add — also provides a pleasant backdrop for a real wedding or any other event for a small gathering.  The ticket prices for Joni & Gina's Wedding both include a buffet-style dinner, champagne toast and wedding cake.  Even better — locals get $10 off.  Just be prepared because you're served a lot of hilarity as individual family members make their way to the microphone to give some interesting speeches.  Joni's sister "Rivka"delivers one of the best as it's full of some excellent Jewish gibberish.  During these speeches, Gina's mother blurts out some fantastic one-liners while Joni's dysfunctionally divorced parents — Ida and Larry — go back and forth in a comical cat-fight.  And, Gina's dad — who purposely nervously gives his speech — finally comes to grips with the fact that his daughter is a lesbian.
Following some dancing and a strip tease from Gina's brother, you still leave the wedding still feeling all lovey-dovey despite the dysfunction.  And considering you're getting both dinner and entertainment — you really can't beat the ticket prices which are $59.95 and $79.95 depending on where you prefer to be seated.   But get your tickets soon as this play only runs through the end of December!