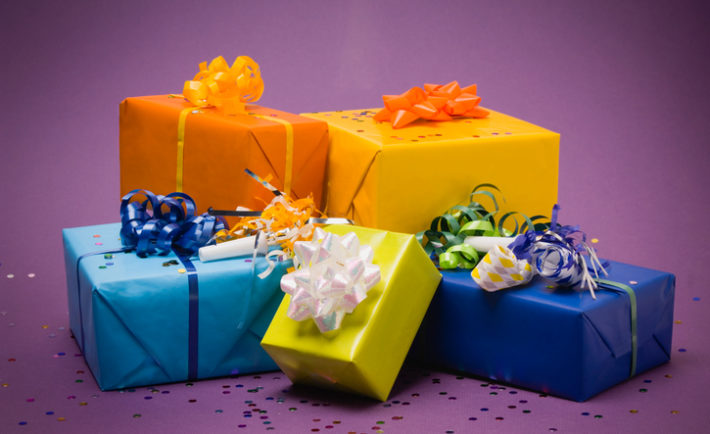 Have you ever received a gift that, upon opening — forced your face to flash a perplexed look with your brain thinking "what am I supposed to do with this?"  Well, I was also blessed (or cursed) with the gift of gab.  And since I can't seem to shut-up; it either ends up getting me into trouble or uncovering a gem.
A few weeks ago, the topic of spiritual gifts came up at my men's small church group.  We meet every Monday night and all attend The Crossing regularly.  I spend a good amount of time cracking jokes in this group. But I learn quite a bit too.  It's all about balance — right?!  Intrigued by the topic, I took it upon myself to figure out my spiritual gift.  There's a simple test online.
I unwrapped 'exhortation.'  Huh? Exhor-wha??  I kid you not — I had no idea what this word even meant. I was hoping for wisdom or supermodel (that's not a gift).  I had to look it up.
Exhortation is The Gift of Encouragement
Interesting, I thought.  It seemed to make sense. I often find people asking me for advice or perspective on situations.  Among other things, I end up telling them to pray and carry on about my day.  Don't get me wrong — I like helping people and "exhorting" them but I don't always know what to say or do.  And, if I'm in line at Starbucks — don't even think about unleashing your 99 problems.  My mind is solely focused on iced-coffee.
Anyway, as I headed to church today — I prayed and asked God to show me how to use exhortation and how to fit it into my life.  I parked my car and headed into church (with my Starbucks in hand).  I noticed a guy out front and I said hello.  It's what we do.  We shake hands, we hug, say hello, make small talk…it's church.
The man replied with a "good morning" but I could tell in his eyes it was anything but.  He asked me if he was dressed appropriately.  He was wearing jeans and purple button down shirt.  I was in shorts and t-shirt.  So, of course, I told him he could've dressed up a bit.  He was entering the house of the Lord, after all. KIDDING!!  I told him he looked fine — "God cares about our hearts, not our appearance," I added.   His eyes teared up.  I told him to talk to me.  In our conversation I learned his dog recently died, he lived alone on three acres of land and was really depressed.  He hardly got out of the house.
Yikes!! What words do I possibly string together to let this man know that everything will be ok?  The best I had was that God led him to church for a reason.  I assured him that God is loving and we were meant to connect with others here on Earth — not isolate in our homes.  I also mentioned that God heals and encouraged him to pray asking for comfort in his sorrow.  I finished up by saying that maybe this was the door God created for him to return to church.  He last attended a year ago.  I finished up telling him that life has been so much more meaningful for me when I include God and let him do the driving. I'm paraphrasing what I said.  I honestly don't remember exactly — but it was something those lines.
He thanked me — a lot.  But I couldn't let a broken man go it alone.  Our church has 600 plus people at any given service.  That can be a bit overwhelming — especially when you're alone.  I invited him to sit with me.  He obliged and thanked me again.  About mid-way through the service, he leaned over and thanked me yet again — this time saying he felt so much better.  I cracked a bit of a smile and said "my pleasure."  On our way out, I watched as he held the door for a good 50 people as they left church.  And he was smiling.
I'm the kind of person who likes to complicate and overthink.  I like to dot i's and cross t's that don't even exist in words.  The gift of exhortation is  fancy verbiage for consoling others, being there for them in their time of need and building people up.  It's about connecting people with God.  But the bigger take away for me was what God did today.  I asked him to show me how to use this gift and he put me in a situation that allowed me to do so.  Ask and you shall receive, right??
This gift isn't covered in fancy wrapping paper or decorated with a giant bow.  It turns out that exhortation is really just about being human.  And it's a gift we can all use daily.