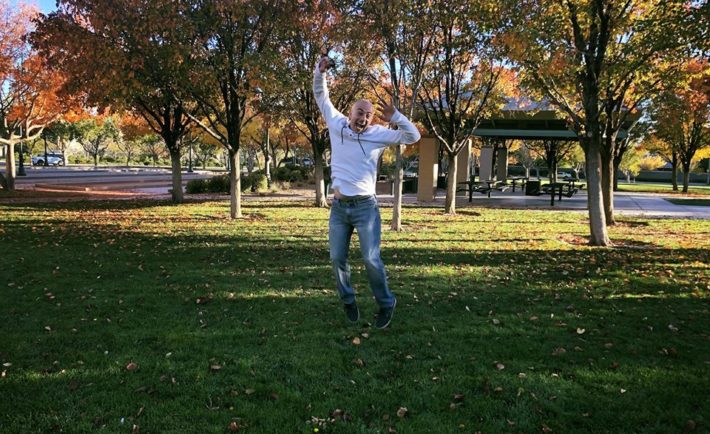 I assumed we only got one opportunity to journey through that awkward but equally as freeing coming of age experience at 18 years old.  If you remember it as I do; it's that time we finally had all the answers, a bit of a roadmap and gobs of gumption fueling the impending impression to be left the world.  Little did I know, I'd be doing it again — at 41 — from a seat in the theater at Green Valley Ranch to a movie titled "Lady Bird."  And then realizing that "impression" was more of a scratch…that was starting to heal.
I didn't go into 2017 feeling I needed to be epically different than the past year.  But I did set a goal to do something in theater.   And I did.  I completed the three Improv classes at Vegas Theatre Hub, added another Advanced Long Form class to my certificate stash and I'm currently taking Sketch Writing 1.  In June, I was fortunate to take a second Mission Trip with The Crossing Church to Ireland to spread joy and help Elevate Church with community outreach.  When the plane touched back down in Las Vegas a week later, I hit hard.  It was sort of like when an Olympic Gymnast misses the landing, stumbles and falls.  The crowd cringes, but that gymnast immediately gets back up and finishes in stance.  But I stayed down.  I didn't want to keep going.
I partly felt like I had been moving so fast in 2017.  Accomplishing a lot, but experiencing very little.  I even remembered thinking to myself in Ireland "Oh, this is what pavement feels like under my feet."  It felt so good, I couldn't muster up any motivation to return to my normal routine in Las Vegas. I was tired.  By November, I became that tumbleweed you see in Western movies rolling through the middle of nowhere.  Awesome allegory!  Great…I failed.
But torture had another punch.  I also got an extended visit from the second book I'd written three years prior titled "The Light Year."  Like the first book, the second also became art imitating life as God urged me to keep writing…my story wasn't apparently done.  This time around, the stakes were higher.  I explain why in the book.  And today — I finally asked God to join me in the upcoming New Year.
The "Lady Bird" movie is relatable to everyone.  Laurie Metcalf (the sister in the 90's sitcom Roseanne) deserves an Oscar for role as over-worried mother.  And Lady Bird (the daughter's self-given name) does an equally convincing job at playing the argumentative, entitled teen.  The two butt heads consistently.  But Lady Bird eventually realizes the importance of parents and the depth of their love.  She already had the heartwarming relationship with her father who consistently meets her with arms wide open.  And then it hit me. I was trying to do life without God.  And that "life imitating art" from the second book that I perceived as torture — was really just the Father trying to connect with a hug.
You see, in "The Light Year," I thought it would be clever to close out the last chapter with the sentence "To be continued?"  It was open ended and non-committal.  Plus, if I were wrong about the revelation I'd made, it was safety-netted by punctuation.   But now I realize that God comes first — period!
Happy New Year and expect the third book in 2018.   God green lighted it– for real.   He and I had lunch today at House of Blues.  I'll tell you all about it in Chapter 1. #faithworks