As an audience member, you learn a few things watching Blues Traveler bust out a three song set at the 1 Night for One Drop charity event. For starters; it was only supposed to only be two song set.  But what do you do when the crowd wants more?  You oblige!   Yup — they still have pull.   Secondly, the band that blessed us with fantastic music in the 90's  still has every bit of incredible stage presence and carefully crafted beats to boot in this day and age.   Also — frontman John Popper has no qualms about parting ways with those well-played harmonicas.  Two of them went flying into the crowd for some keepsake catching.   I said it in my last interview with Popper and I'll reprise it — the man has the musical midas touch.  So much emotion oozes out of him and the band it's both uncanny and captivating.  But, the gentlemen of Blues Traveler know exactly how I feel about their music.   I'm forever grateful for their kind of magic. Now, let's get down to business.  I'll just throw out a few names and we'll jump into an interview with these guys. Jewel, Gavin Degraw, JC Chasez, Uncle Cracker, Sugar Ray — they're all connected to Blues Traveler's upcoming album or tour.  And; look for a special, exclusive performance of "Hook" following the interview below.   Oh, and the blue nose for One drop was a perfect fit for Popper who said he likes to play the part completely! 
Mike: So, I trust you remember me from like a year ago and we keep in touch on Twitter.
Blues Traveler: Yes!
Mike: But you didn't want to interview earlier this year because some religious sect is alway ripping apart your interviews. (true story)
Blues Traveler: (Laughing) Yes!
Mike: So did they come after you?
Blues Traveler: "A little bit, but they got bored.  They're going after other people now."
Mike:  Including their own (reference to the awful Westboro Baptists).
Blues Traveler: Yeah (laughs)
Mike: So you guys recently tweeted out a picture of Gavin Degraw — you're working with him — tell me all about it because I love it.
Blues Traveler: "He's a dynamo.  He's got 6 million ideas all at once and the key is to just hang on and let him express them all."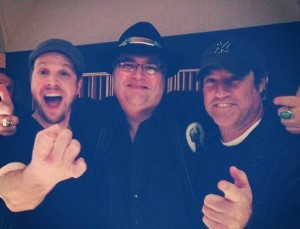 Mike: I've met him a few times and he's a great guy.  How did you come to connect with him? 
Blues Traveler: "We're making an EP with different artists and we put together a list of people we wanted to work with.  We got back a surprising amount of people who wanted to do it and the trick is the schedule.   We've done with Plain White T's.  I think next is 3OH!3.  We have Jewel coming up too.
Mike: I LOVE Jewel.
Blues Traveler: "To have us collaborate with these bands who are a bit more current — we can sort of pass on the torch.  They're so different too — from each other and that's the fun thing for us."
Mike: And I like that you're working with true musicians — not to say that others aren't but you got people who really know their craft well.  I saw Jewel last year.  She's a really good Raconteur — an amazing singer and musician too, but she tells awesome stories on stage.
Blues Traveler: "JC Chasez was producing the thing we did with Plain White T's and he helped us work out a four-part harmony.  You know, you got somebody from N'Sync telling you how to sing harmonies; it's kind of a cool thing for us.  We never get access to these people.  Fall Out Boy wrote a tune for us — (Popper) I'm excited to hear what that's gonna sound like"
Mike: Does it change your sound at all when working with other people or does it still have the signature Blues Traveler sound?
Blues Traveler: "You want to be you in that sound but the result is a very different modularization of everything and I think that's what people are going to like about it."
Mike: Your album Suzie Cracks the Whip — how has that been received?
Blues Traveler: "It's been going really well.  A great indicator of it is how much of it we play live and we play four or five songs definitely every night from that album live and it's a great indicator that people really like it and it's fun to play.
Mike: So basically been collaborating this past year?
Blues Traveler: "This Spring basically.  That'll (EP) be out in September.  In the meantime, we go on tour with Sugar Ray, Smash Mouth and Uncle Cracker.
Mike: Will you PLEASE come to Vegas?
Blues Traveler: "YEAH!  our managers are here.  I think we have to."
Mike: Ok last question — I know you won't play my favorite tune "Most Precarious," but how about "But Anyway?"
Blues Traveler: "I think we're only slated for two tunes tonight."
Mike: Fuck that, I got pull — you'll do three.
Blues Traveler: "You get us that pull and we'll do it.  But when we come through, we'll definitely play it."
Mike: I will for sure come see you guys and I'll keep up with you on Twitter.
Blues Traveler: "Please do!"
Mike: Great to see you guys again!
Don't go anywhere.  I was front row center for the band's performance which means you get to see  "Hook."  Enjoy!