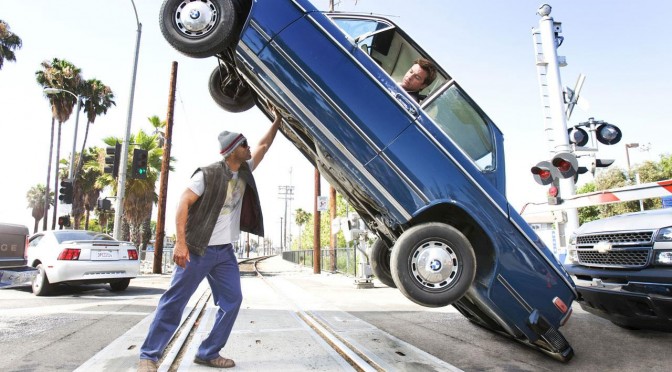 Your ads will be inserted here by
Google Adsense.
Please go to the plugin admin page to set up your ad code.
God Give Me Strengths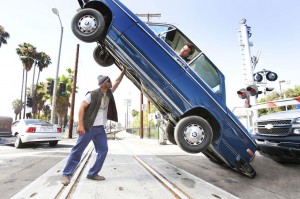 I would have to assume that on any given day, someone is praying to God asking for strength. And, if I know God (and, I do. We're pretty tight, though not to the point where we're braiding each other's hair on a Friday sleepover just yet) then he answers in a very particular way for a very particular reason. Upon waking up yesterday morning, I remembered that I still needed to take my "strength finder" test as required by my company; Monster Products.
The timing around this was perfect in the sense that I'd been praying daily that God give me strength(s) around this new job. Monster is a wonderful company. But, it also has challenges. What company doesn't? The only rule I'd placed on myself upon acceptance of the position and offer was — and still is — no quitting or resigning. And, truthfully — there is really no need to greet that situation. I now know my strengths. And, my top five strengths are essentially a blueprint for continued success. So, 177 questions later and 35 minutes total spent online — I was spit back this list, in this order. My top tier strengths are:
Strategic
Connectedness
Learner
Futuristic
Achiever
Strategic wasn't a surprise. And, what I didn't know about being "strategic" from my time spent in the news industry, my boss at The Mob Museum — Ceres Hill — taught me as I transitioned into PR & Marketing. Connectedness brought a slight "hmmm" reaction. But only in the sense that if I had taken this test a year ago, it would not be on the list. The book I wrote titled "It's a Sign, Stupid!" brought out the connectivity I have with the Universe, God and people that I didn't know I had prior. In my opinion — being connected means being vested. And that means having an important role and stake in the game. It's teamwork and it's about everyone winning. After leaving the news business back in 2009, I became obsessed with knowledge. So, Learner making the list was expected. And, at Monster — another of our mottos is "Ask the Right Questions." In doing so, we learn to get accurate information and approach situations from the right angle. Futuristic was a bit of a shock. I'm very nostalgic. I'm the guy who wants to things back to when times were good, etc. But wrapping my head around that a bit further — I realize that being futuristic is about getting to the good times again by learning from the past. And, finally, I feel like everyone always tells me that I never stop and that I manage to get where I want to go fairly easily. Well, I do — but it's not always done "easily." My mentor and college Journalism Professor Virginia Bacheler made me the Achiever I've become. And that only happened after I stopped subscribing to the notion that I wasn't good enough or as good as anyone else. The truth is — we are all achievers. Some just learn it sooner; and some later.
Your ads will be inserted here by
Google Adsense.
Please go to the plugin admin page to set up your ad code.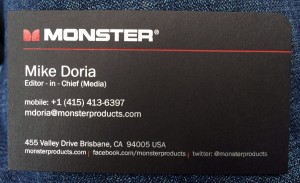 My business cards also arrived today. As I pulled one out of the box to take a look, I said to myself "one day I'll actually earn the title that's on the card." Later, I publicly shared that sentiment on Facebook. And, I'm certain that I will earn that title eventually because my boss is a smart guy who knows what he's doing. In fact, in the five years that I've been out of the news business, Monster Products is the only company that got me to approach my job from a TV News Reporter perspective. Take a look at the video below that I shot with my iphone and edited in imovie.
Lastly — I would encourage anyone to take the strength finder test put out by Gallup. It costs $10. But the take away is prices. There's another reason why Monster has us do this and include it in the signature line of our email. The higher ups know exactly who to tap when they need people with a certain strength to help on a project or particular challenge at hand.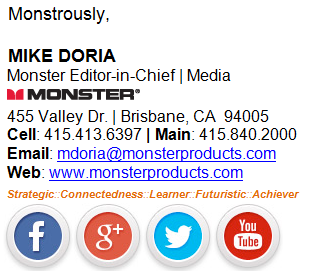 Your ads will be inserted here by
Google Adsense.
Please go to the plugin admin page to set up your ad code.